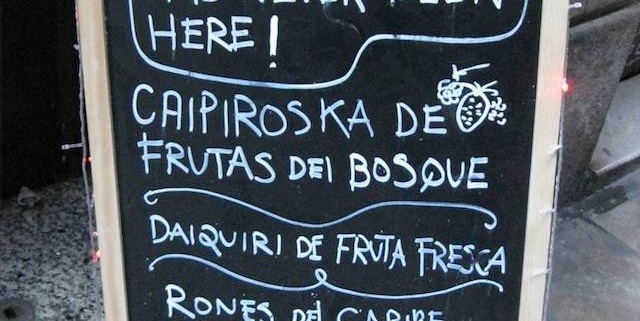 The influence of the English language is as dominant as ever. With technology advancing through smart phones and social media it is easier for non-English speakers to learn many Anglowords. Words like E-mail, Chat, Show, Happy Hour, Man, and Business and of course the words OK and bye now make a fundamental part of our language. Let's not forget that these words bring culture and identity with them. A great example is the Happy Hour.
A while ago, here in America, many clandestine bars came up with the idea that you can pay for your drink and get the next one free or discounted. The idea was clearly a great move for bars because it helped attract more customers. It is a great way to get more bang for your buck.This practice extended to the rest of the world especially in Spanish speaking countries. Most of us Millennials were probably the first ones to adhere the English language to our Spanish without even noticing.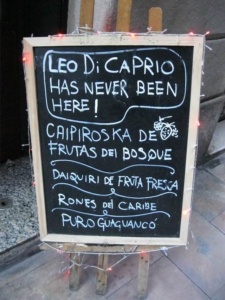 For those interested in Spanish classes in NYC, allow me to explain what a happy hour feels like in New York City; and if you have been to some I would love to hear your stories and feats.
Most of us who live in New York have a lot in common: we ride the train, we drink a lot of coffee, we have 9-5 jobs (some of us) but at the end of the day we all head to our favorite spot with our coworkers/friends to have a drink and talk about our day. With currently more than 10,000 bars in the best city in the world it would be almost an insult not to try it at least once. When people from Spanish speaking countries visit us I tend to hear a similar reaction: "Why do you all drink so much?" or "why are bars so packed on a Tuesday?" This gives me an idea. The option of teaching them more about NYC culture and how it is ok with moderation to enjoy a good drink with great friends.
When someone asks me where is a good place to sit down with your teacher to learn I always recommend a library, a coffee shop or of course a comfy bar during happy hour. One way for Spanish lessons in NYC to better someone's language is by having the right confidence with the right attitude and a good drink. It is true that when you are as relaxed as possible you tend to learn better. One time, a student who happened to be somewhat shy ended up having a conversation with the waiter in Spanish. Did these Spanish lessons pay off during Happy Hour? My student would not stop saying how much he loved "La Hora Feliz".
And just like that, it hit me! Those who want to learn Spanish in NYC feel really cool about changing the Anglicisms to Spanish-isms? When I was younger I really thought I sounded cool saying things in English without learning the whole language. To this day younger people say "when" the same way we do in English and then they finish the phrase entirely in Spanish. At this rate, as some of you know, Spanglish is starting to become a somewhat new language.
Those who completely control this language are the ones born in Puerto Rico. Since the Spanish-American war of 1898 and most likely the Jones- Shafroth Act in 1917 they had to adapt and learn from each other. I recently taught a student from Puerto Rico who felt like he needed to learn perfect Spanish. I encouraged him to be okay with what he knows and to follow his gut to speak the language. This makes me ecstatic since in my experience Latinos want to learn English without the need of books or serious Spanish classroom lessons and here at SpanishNYC we use the Natural Conversation Approach that fits exactly with students like him.
Here is a short conversation that I overheard here in NYC:
-Hey Viejo man como va la vaina?

-Yatusabetodoesta cool.

-Quiereir a Happy Hour?

-Pero like no se, perodepende who is gonna go…

-Tu y yo my dude.
Can you convert it into English completely? Or Spanish? The key here is whether you speak English or Spanish you will understand it and that is great news! Now the big question is do you want to polish your English and/or Spanish at SpanishNYC. En ese caso don't you worry que nosotros speak both!
Orlando C.
---
HAPPY HOUR OR HORA FELIZ?
La influencia del idioma inglés es tan dominante como siempre. Con la tecnología que avanza a través de teléfonos inteligentes y redes sociales, es más fácil para los que no hablan inglés aprender muchas mas palabras Anglosajonas. Palabras como E-mail, Chat, Show, HappyHour, Man y Business y, por supuesto, las palabras OK y bye ahora forman parte fundamental de nuestro lenguaje. No olvidemos que estas palabras traen cultura e identidad con ellas. Un gran ejemplo es la HappyHour.
Hace un tiempo, aquí en Estados Unidos, a muchos bares clandestinos se les ocurrió la idea de que puedes pagar tu bebida y obtener la siguiente gratis o con descuento. La idea fue claramente un gran paso para los bares porque ayudó a atraer a más clientes. Es una gran manera de obtener más por tu dinero.  Esta práctica se extendió al resto del mundo, especialmente en los países de habla hispana. La mayoría de nosotros, los Milenarios, fuimos probablemente los primeros en adherir el idioma inglés a nuestro español sin ni siquiera darnos cuenta.   Para aquellos interesados en clases de español en Nueva York, permítanme explicar cómo se siente una hora feliz en la ciudad de Nueva York; y si has estado en alguno, me encantaría escuchar tus historias y tus hazañas.
La mayoría de nosotros que vivimos en Nueva York tenemos mucho en común: tomamos el tren, tomamos mucho café, trabajamos de 9 a 5 (algunos de nosotros), pero al final todos nos dirigimos a nuestro lugar favorito. con nuestros compañeros de trabajo / amigos para tomar una copa y hablar sobre cualquier cosa. Con actualmente más de 10.000 bares en la mejor ciudad del mundo, sería casi un insulto no intentarlo al menos una sola vez. Cuando las personas de países de habla hispana nos visitan, tiendo a escuchar una reacción similar: "¿Por qué beben tanto?" O "¿por qué los bares están tan llenos un martes?". Esto me da una idea. La opción de enseñarles más sobre la cultura de la ciudad de Nueva York y cómo con moderación claro está disfrutar de una buena bebida con buenos amigos.
Cuando alguien me pregunta dónde es un buen lugar para sentarse con tu maestro para aprender, siempre recomiendo una biblioteca, una cafetería o, por supuesto, un bar cómodo durante la hora feliz. Una forma de que las clases de español en Nueva York mejoren el idioma de alguien es teniendo la confianza adecuada con la actitud correcta y una buena bebida. Es cierto que cuando estás lo más relajado posible, tiendes a aprender mejor. Una vez, un estudiante que era un poco tímido terminó conversando con el mesero en español. ¿Valieron la pena estas lecciones en español durante el HappyHour? Mi estudiante no paraba de decir cuánto amaba "La Hora Feliz".
¡Y así caí en cuenta! Aquellos que quieren aprender español en Nueva York se sienten realmente bien cambiando los anglicismos a los Españolismos?. Cuando era más joven, realmente pensé que sonaba mejor diciendo cosas en inglés sin aprender todo el idioma. Hasta el día de hoy, las personas más jóvenes dicen "When" de la misma manera que nosotros en inglés y luego terminan la frase completamente en español. A este ritmo, como algunos de ustedes saben, Spanglish está comenzando a convertirse en un lenguaje algo nuevo.
Aquellos que controlan completamente este idioma son los nacidos en Puerto Rico. Desde la guerra entre España y America en 1898 y muy probablemente la Ley Jones-Shafroth en 1917 tuvieron que adaptarse y aprender unos de otros. Recientemente le enseñé a un estudiante de Puerto Rico que sentía que necesitaba aprender español perfecto. Lo alenté a estar bien con lo que sabe y a seguir sus instintos para hablar el idioma. Esto me emociona ya que, en mi experiencia, los latinos quieren aprender inglés sin la necesidad de libros o lecciones serias en el salón de clases, y aquí en SpanishNYC usamos el enfoque de conversación natural que encaja exactamente con estudiantes como él.
A continuación una breve conversación que escuché aquí en Nueva York:
-Hey Viejo man como va la vaina?

-Ya tu sabe todo esta cool.

-Quiere ir a HappyHour?

-Pero like no se, pero depende whoisgonnago …

-Tu y yo my dude.
¿Puedes convertirlo completamente al inglés? ¿O español? La clave aquí es si hablas inglés o español, lo entenderás y eso es una gran noticia. Ahora la gran pregunta es si quieres pulir tu inglés y / o español en SpanishNYC. En ese caso don'tyouworry que nosotros speakboth!
Orlando C.
https://spanishnyc.com/wp-content/uploads/2018/10/happy-hour-in-spanish.jpg
853
640
spanish_admin
/wp-content/uploads/2020/07/logo-300x45.png
spanish_admin
2018-10-07 06:34:28
2022-09-19 19:03:54
HAPPY HOUR OR HORA FELIZ?