The Latin market in the United States has become an essential component for a brand's growth. In the last few years, the purchasing power of the Latin community has substantially increased, making the community appealing for any brand that is looking to tap into a great resource.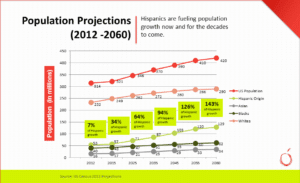 Global brands like P&G, Unilever, Coca-Cola and Walmart have all had significant growth, thanks to the developments in the Latino consumer market. This socio-cultural boom has delimited its expansion in territories that have never been explored before. With 52 million Latinos in the U.S. and a projected buying power of $1.5 trillion in 2015, per Nielsen, it is one of the most powerful demographics in the world.
As a creative marketer and Hispanic myself, I am predisposed to utilize culture as a connecting tool with the brands I work with and their Hispanic consumers. Latin people are story tellers, and because of this, we like connecting to brands through emotional stories that emanate the values of our rich culture.
For Latinos living in the U.S., brands that utilize storytelling techniques can act as a conductor that connect us to our deepest memories, while creating a dialogue about a product or service that might be valuable to us.
Thanks to the Hispanic market growth, there is a huge influence on the media that is helping develop new programs and new ways of communication. As such, the proper language has to be used to address the Latin market. According to research from The Nielsen Company, 56% of Hispanic adults mainly speak Spanish in their homes, in comparison to the 40% that prefer English.
If the goal is create a connection with Hispanics, you can see how important it is to use Spanish in your marketing campaigns. In addition, marketing professionals need to find support in a mixture of media platforms and technology to be the link between lifestyle, culture and linguistic preferences of the Latin market.
With this in mind, here are my four tips for marketers to tap into the purchasing power of the U.S. Hispanic market:
1. Don't just build a great story for the brand – utilize cultural elements that can generate identity. For example, Corona's classic TV commercials give viewers that essential Mexican beach culture experience and yet, their brand is globally recognized as the beer connected to that experience.
2. Brands must use the same language as the Hispanic market. There are some words that are highly emotional in Spanish that cannot be expressed in a different language. A good example of this is the Spanish-language TV spot for Honda that will air on the U.S. Spanish network and cable TV.
3. Be colorful. Latin America is incredibly colorful – from the architecture to the landscape and cuisine, color is an essential Latin American trait. Capture that nostalgia and utilize color to convey emotions in your campaign. The Jarritos' TV Spot "Perfect Jarritos" used a traditional Mexican background with colorful piñatas and a character that depicts the common skulls used in "Day of the Dead" celebrations. It is a great illustration of using color to create sentiment.
4. Get to the point. Express what the product really is and never try to fool the Hispanic community by exaggerating its attributes. Honesty is one of the main reasons why the Hispanic community is loyal to a specific brand. Chrysler Mexico did an advertising campaign called "A todo con todo" for the U.S. Hispanic community for its Ram truck. This campaign showed Hispanic people talking about the importance of having a truck that can support their hard work, while saving on gasoline, and is a good example of speaking directly to their target audience.
Contact us for NYC corporate Spanish classes, family and private lessons.
https://spanishnyc.com/wp-content/uploads/2014/02/learn-spanish.png
585
960
spanish_admin
/wp-content/uploads/2020/07/logo-300x45.png
spanish_admin
2014-02-11 11:51:40
2022-09-19 19:03:57
Tips For Marketers Tapping Into U.S. Hispanic Market